Personal Injury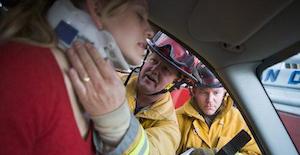 Your Idaho personal injury attorneys at Racine Olson have been helping people with their personal injury for some 70 years. If you are visiting this webpage, you have most likely been injured in some sort of accident. The accident may have been severe and resulted in broken bones, head trauma, or other serious injuries. Maybe the accident was one which made it so that you could not function the way that you had previously. Perhaps you have found yourself wondering what to do next. Personal injury law is complex and difficult to understand. Often there is a new vocabulary you must learn in order to communicate with healthcare providers, insurance companies, and law enforcement. Some of these terms could be "subrogation", "causation", or "negligence per se". The insurance company may insist on not paying what you believe is rightfully owed to you.
You Need a Qualified Idaho Attorney
If you attempt to pursue your claim without the help of a qualified attorney, you could further complicate your ability to receive the money you need. For instance, the insurance company may ask to take your recorded statement. This should not be done. Insurance companies are not there to help you with your claim against them. They are there to save money for the bottom line and ensure that they pay you as little as possible.
The Statute of Limitations Requires You to Act now
However, there is a word of warning that must be given on personal injuries of any kind. Idaho has a relatively short statute of limitations as compared to other states. These laws block your claim if not brought within a certain amount of time. In Idaho, you must commence your lawsuit within two years as provided by Idaho Code § 5-219(4). The two years commences from when the injury happens. Hawley v. Green, 117 Idaho 498, 788 P.2d 1321 (1990). This is not two years from when the damage is discovered, but rather two years from when the damage occurred. Zumwalt v. Stephan, Balleisen & Slavin, 113 Idaho 822, 748 P.2d 406 (Ct. App. 1987). There are a couple of exceptions to the rule, but they are narrow. For instance, if the defendant in an action induces the plaintiff not to sue him or her during the statute of limitations period, then later, the defendant cannot use the statute to block the lawsuit. Id. There is another exception where a foreign object is left in a patient's body by a physician without his or her knowledge until later. Id. However, make no mistake, these exceptions are extremely narrow and are often unsuccessful unless just the right facts of a case present themselves. In other words, do not procrastinate or you could lose your opportunity to recover even where the injury is serious.
An Experienced Idaho Attorney is the Key to Success
We are dedicated to ensuring that mistakes do not happen to you. Our team of lawyers has pursued all types of personal injury claims arising from car accidents, truck accidents, and products liability, to premises liability, bad faith insurance claims, and negligent entrustment. We have litigated nearly every injury one can imagine from back injuries, broken bones, and brain injuries, to food poisoning, chemical burns, and death.
Because of the large number of cases we have litigated, we understand the types of pitfalls that come from these catastrophic injury cases. In addition, we have witnessed the pain of losing a loved one or the suffering a person endures due serious injuries. We have seen people struggle to cope with new limitations as the result of an injury. We realize that your inability to work and pay medical bills is a difficulty you never thought you would have to work through and that the resulting frustrations are significant. Such a time can harm your finances as well as your emotional well-being and relationships with those you love. We understand those feelings.
Racine Olson Inspires Confidence
We believe our track record speaks for itself. We invite you to look at a small sampling of the results that we have obtained over the years located on this website. As a personal injury team, we have handled cases throughout Idaho, and we have the advantage of knowing the obstacles you face and how to navigate around them. We look forward to helping you with them.
We invite you to get to know us, both by reviewing our biographical information on this site or simply stopping by or giving us a call to say hello and discuss your problem with us. We want to help you with your problem. We want you to be a satisfied client. We want you to join with us in saying, "Problem Solved." Give us a call today.