Wrongful Death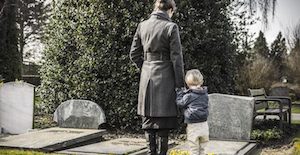 Chances are if you are looking at this page, you have experienced a terrible loss and you are looking for someone who understands. Your Idaho wrongful death attorney at Racine Olson can help. That's what we've been doing for seventy years.
A Wrongful Death can Occur in Numerous Circumstances
A wrongful death can occur when someone acts in a careless fashion whether by virtue of a car accident, an injury through a dangerous product, or even a dangerous condition on property and causes the death of an injured party. These types of accidents result in death to the very young, to mothers, to fathers, and the elderly. However, no matter who it happens to, those who are left behind are confronted by feelings of loss, fear, pain and grief. Racine Olson can help.
Heirs in a Wrongful Death Case
We understand those who have claims and are able to recover from the wrongdoer. For instance, Idaho Code § 5-311 provides that there are two groups of people who can recover due to a wrongful act. The first are those who would be entitled to take as heirs under Idaho Code § 15-1-201(22). The second group of people who are allowed to recover from a wrongdoer are the decedent's spouse, children, stepchildren, and parents. I.C. § 5-311(2)(b). Even a brother or sister can recover for the death if they were dependent on the decedent for support or services. Id.
Racine Olson can Help with all the Legal Issues Surrounding Wrongful Death
Not too long ago, Racine Olson handled a case for three siblings whose parents had passed away as the result of a motorcycle accident. These three young people needed help in a variety of ways during a time when they were grieving the loss of their parents. Racine Olson was there helping with the guardianship, insurance questions, and even answering everyday questions such as how to sell vehicles and automobiles as well as deal with estate issues. You see its difficult for Racine Olson to see our clients in pain while trying to deal with medical bills, funeral costs, and lost income all at a time when they are grieving one of the greatest losses they will suffer in their lifetime.
We like to think that's what makes Racine Olson different from other firms. It's not simply the size of the fee, it is what can we do to make our clients' lives easier while the circumstances of life are pushing them down.
The family mentioned above had a boy who was under the age of 18. Obviously he was living at home and being cared for and provided for by his mother and father. With their passing, the other children needed to know how to best care for him. We took the reins and made suggestions on how they could obtain social security and other benefits for this young child. Counseling was recommended and the very best experts were employed during litigation to ensure that the family received the highest recovery possible.
We like to think that this is what Racine Olson is all about during times as terrible as the death of a loved one. Because we are a large firm by Idaho standards, we have been able to broaden our practice and cover many areas which could result in the death of a loved one. These include car accidents, trucking accidents, head injuries, motorcycle accidents, bicycle accidents, drunk driving accidents, defective drugs, and claims against dangerous products belonging to manufacturers.
Your Idaho Wrongful Death Attorney Should Understand the Recovery Rules
In addition to the technical rules above, we understand the damages that a family member is entitled to including medical bills, the funeral and burial expenses, lost earnings, loss of property and such intangible benefits as the companionship and loss of the relationship. We know how to prove that the defendant was negligent. We are able to gather the evidence, protect it, and build a case that is necessary to solve the problems that you have entrusted to us.
Here at Racine Olson we want to help you. Give us a call today at 1 877.232.6101 or 208.232.6101. We would be honored to help solve your problems. Problem solved.