Car Accident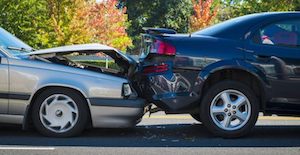 An car or light truck accident in Idaho may happen in a second whether on the dry roads of summer or the icy roads of winter. Even though the accident happens quickly, the injuries and suffering that arise from it may last days, months, or even a lifetime. In some unfortunate cases, it can cost the life of a careful and innocent driver. Attorneys at Racine Olson are experienced in these cases and have handled them for many years. They not only have the experience, Racine Olson lawyers have the ability to explain legal principles in a way that will make you feel better about the burden you've been carrying.
Weather Related Accidents
Oftentimes in Idaho, a vehicle accident will arise due to icy roads or other adverse weather conditions. Many people believe that if the road was icy, no one is at fault for the accident since the person causing the accident couldn't stop on slick roads. This is incorrect. In one case a driver was unable to stop when entering an intersection and struck another vehicle. The trial court stated that because the roads were icy, that this excused his failure to stop. However, the Idaho Supreme Court stated that a person is still negligent whether or not the road is icy since a failure to obey traffic laws makes a driver negligent per se. Haakonstad v. Hoff, 94 Idaho 300, 301, 486 P.2d 1013, 1014 (1971). The Idaho Court of Appeals later followed this rule again. It stated that the failure to maintain a vehicle under control even on icy roads was no excuse and the party who failed to do so was negligent as a matter of law. Teply v. Lincoln, 125 Idaho 773, 874 P.2d 584 (Ct. App. 1994).
The problem is that the driver who slides into you on icy roads, or is tired or distracted when he or she slams into you, affects nearly every part of your life. You lose the ability to work, medical bills pile up, other bills mount, and the constant pain and suffering wears on you. An inattentive driver can cause injuries that last a lifetime including broken bones, nerve damage, traumatic brain injuries, or even the death of a loved one. We understand.
Idaho has diverse weather. Whether in Boise, Twin Falls, Idaho Falls, or Pocatello, we have an office in every clime. We experience your weather with you. We can work with police to get the police report and, if necessary, we can retain weather experts to explain why the road conditions existed. In short, we know what we're doing and we'll be right there with you.
Insurance Issues Abound With Serious Injury Cases
There are other issues which will require the assistance of a qualified attorney when one of these more severe accidents happen. Those will include subrogation interests by medical insurance companies, pain and suffering, and what the value is of a given case. You will need to be aware of the liability insurance coverage which is carried by the negligent driver. We know how to guide you through these issues because we are familiar with insurance companies, coverage issues, and the requirements that govern them. We know how to maximize your recovery.
If we had to guess, this is probably the first time you have ever been involved in a serious accident or had to deal with an insurance company regarding personal injuries. This process is filled with hidden traps if you don't know what you are doing. Our staff has the skills to deal with insurance companies on your behalf so that you receive what you are legally entitled to. Often times, insurance claim adjusters will try to convince you that it is in your best interest to speak with them but this is not true. We know the tactics insurance companies use to deny a claim or reduce the payment and we will fight aggressively if needed.
Experienced in all Types of Vehicle Accidents
Our staff here is experienced in handling all types of motor vehicle and light truck accidents. These include drunk driving, uninsured/underinsured, hit-and-run collisions, bad faith insurance claims, auto defects and distracted driving. Additionally, we work with a number of medical and car accident experts, evaluating the effects of brain injuries, spinal cord compression, broken bones and severe internal injuries on your life. This gives us the ability to effectively advocate for you.
We are confident in our ability to help you with your problem. After all, we've been helping our friends and neighbors solve problems for a very long time. Come see us today and let's solve your problem together. Your Racine Olson team can help. Give us a call.