Stephen J. Muhonen
Partner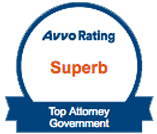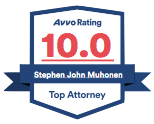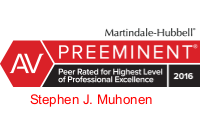 Steve is the Prosecuting Attorney for the cities of Chubbuck and American Falls. He also serves as a Special Deputy Attorney General handling administrative license suspension appeals. Steve also practices in the area of personal injury, law enforcement representation, creditor's rights, and subrogation. Steve is admitted to practice in all state and federal courts in the state of Idaho. Steve is also admitted to practice in the state of Utah.
Prior to becoming an attorney, Steve was working as a law enforcement officer for the city of Pocatello, then with the Idaho State Police. Steve was formerly a certified Advanced Crash Investigator by the National Highway Traffic Safety Administration and also as a Drug Recognition Expert. In 1998 he was awarded the Region 5 Idaho State Police Officer of the Year Award and in 1999 he was awarded by the Veterans of Foreign Wars as the state of Idaho Police Officer of the Year. While attending law school, he was an editor for the Idaho Law Review. Steve practices in the areas of Personal Injury, Creditor's Rights, and Administrative Law.
Representative Cases
American Pension Services, Inc. v. Cornerstone Home Builders, 147 Idaho 638, 213 P.3d 1038 (2009)
Wanner v. IDOT, 150 Idaho 164, 244 P.3d 1250 (2011)
Wechsler v. Wechsler, 162 Idaho 900, 407 P.3d 214 (2017)
Personal Information
Steve has and comes from deep rooted ties in Idaho. Steve was born in Boise in 1971 and has lived in various parts of Idaho for more than 37 years. His father was born and raised in Lake Fork, located just south of McCall in Idaho's long valley. Steve's mother was born and raised in northern Idaho's timber and gold country, Orofino, where her family homesteaded on Upper Ford's Creek. Steve attended college at Idaho State University and the University of Idaho. Steve's passions lie in spending time fishing for salmon and steelhead, snowboarding, and working on the family homestead in Orofino. Steve is married to Jennifer and they have four wonderful children and one cat.
Education
J.D., University of Idaho College of Law, 2002
Criminal Justice
B.A., Idaho State University
Sociology
A.A., Idaho State University
Criminal Justice
Professional & Bar Association Memberships
Idaho State Bar
Member Since: 2003
Utah State Bar
Member Since: 2016
6th Judicial District Bar Association
Presently he serves as the President
Idaho Trial Lawyer's Association