Business Contracts
By Lane V. Erickson, Idaho Business Attorney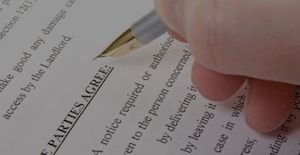 For more than 70 years the business attorneys at the Racine Olson law firm have assisted clients in the creation of business contracts to help them in their business operations. A written contract and contract law provides a legal means for the transfer of property or rights from one person or organization to another person or organization. Most of the principles that form contract law in Idaho and that govern other types of business transactions go all the way back to either medieval England times or even to ancient Rome and the laws they established to deal with business transactions. Additionally, most laws that apply to business contracts are state laws rather than federal laws.
The attorneys on our premier Idaho business law team include partners Lane Erickson and TJ Budge, and attorneys Nate Palmer and Dave Bagley. Each of the attorneys on our team is skilled, knowledgeable, and experience in assisting clients with their business needs including creating business contracts. We have the ability to help you move your business forward by guiding you through and helping you with your business contracts.
So when it comes to business contract law, what is it you really need to know? To help you understand basic business contract law below are the 3 most basic things you need to understand.
What is a Contract?
In its most basic terms a contract is a legally enforceable promise between two or more people. The promise between the people can be for just about anything so long as it is legal. For example, a person may enter into a contract to purchase real estate for money. The legally enforceable promise between the two people is the exchange of real property for money. As an example A promise that does not result in a contract, suppose you promise that you will murder somebody in exchange for payment of money.This instance, even though there is an exchange of a promise for money, the purpose of the contract is not a legally enforceable. As a result, there is no legally enforceable contract.
A contract can either be oral or in writing. Additionally, it is not important whether the parties on both sides of the contract stand on equal footing. Moreover, a legally enforceable contract does not require the promises to be exchanged to be of equal value. Finally, a contract can be either express or implied. In other words if the promise is spelled out specifically as to what will be done then it is an express promise. An example of an express promise is I will pay you $1,000 if you will paint my bedroom. An example of an implied promise is I will pay you $100,000 to build a house for me. It is implied that this house will I have four walls, and a roof, and will be a home suitable for a human being to live in.
Any person who has legal capacity has the ability to enter into a contract with another person who has legal capacity. In order to have legal capacity you have to be an adult, which in Idaho means you have to be over the age of 18, and you have to have the mental ability to understand what it is you are doing. Based on these basic Idaho contract law requirements, a person who is under the age of 18 cannot enter into a legally enforceable contract without a legal adult assisting them, or co-signing with them. Additionally, a person who is suffering from a disability or handicap that limits their mental capacity will not be able to enter into a legally enforceable contract either.
Why is Having a Written Contract Important?
As stated above, a legally enforceable contract can either be oral or in writing. When we are assisting our clients we insist that all contracts be in writing. The reason for this is so there are no misunderstandings about what the terms or conditions of the contract are.
For the most part, for the safety of our clients, we believe that the days where a "man's word is his bond" are mostly gone. This has nothing to do with whether the person is honest or not. It simply has to do with making sure that both parties have the same understanding of what the terms and conditions of the agreement will be so that there are no misunderstandings that could lead to legal problems down the road. In other words, our goal is to protect our clients and help their business transactions be a simple as possible.
With a written contract you have all the basic elements of an enforceable contract in writing. These would include who the contracting parties are. What it is that the contract is about. How long it will take for the contract to be performed. As well as terms and conditions of what may happen if the contract is not fully performed by either or both parties. Most importantly, a well-thought-out written contract will eliminate most problems that could arise between parties that may result in costly litigation.
Do I Need an Attorney to Help Me With My Contracts?
The final basic question that you should understand is whether you need an attorney to help you with your written contracts. The short answer is no. However, I have represented far more clients who have written their own contracts in litigation than I have with clients for whom I have written contracts. The main reason for this is that as a business law attorney, I have the skill, knowledge, and experience necessary to help create a well written contract that will help avoid litigation. The focus of most of my business clients is the bottom line of revenue and profit. Avoiding litigation helps increase their profits and allows them to continue to focus on their business, rather than on litigation the rising from contracts that were not well thought-out or well written.
We have helped numerous business clients right every kind of business contract you can imagine. We are confident that we have the skill and ability to help you too.
Enlist an Idaho Business Attorney to Help You
Our team of Idaho lawyers can help you with any of your business structure or operation needs. Whether you are seeking to create a new business or review a current business, we are available to discuss your options and answer your questions at an initial consultation. Call us toll free at 877.232.6101 or 208.232.6101 for a consultation. You can also email us directly at lane@racineolson.com or stop by our office at 201 East Center Street, Pocatello, Idaho 83201. We will answer your questions and help you solve your Idaho business problems.