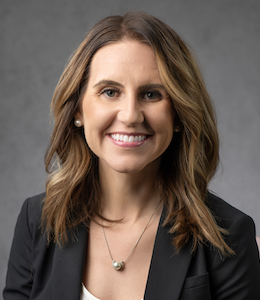 Heidi Buck Morrison
Partner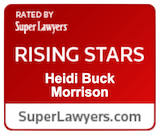 Heidi concentrates her practice on representing Chapter 7 bankruptcy trustees, creditor's rights issues, litigation, family law, and real estate. Heidi is also the civil city attorney for the City of American Falls. Prior to joining Racine Olson in 2016, Heidi practiced in Seattle, Washington with a nationally recognized mortgage banking law firm representing banks, credit unions, mortgage services, and trustees in mortgage and real property disputes.
Heidi is an experienced and skilled litigator and has successfully argued cases to the Ninth Circuit Court of Appeals and Washington appellate courts as well as Idaho and Washington state, federal, and bankruptcy trial courts.
Clients value Heidi's hands-on, problem-solving approach and her ability to clearly communicate the nuances of any legal issue.
Personal Information
Heidi was born and raised in Pocatello and is thrilled to have settled permanently in Pocatello with her husband and children. Heidi is a fitness enthusiast who loves teaching group cycling classes.
Professional and Community Involvement
Heidi is active in the Sixth District Family Law Section where she has served as Chairperson and Secretary/Treasurer. Heidi is a member of the American Bar Association, Idaho State Bar Association, and Washington State Bar Association. In 2017, 2018, and 2019, she was selected as a rising star in the Mountain States edition of Super Lawyers®.
Academic Degrees
Heidi earned her law degree from Seattle University School of Law in 2009. During law school, Heidi worked as a law clerk for a Seattle law firm, volunteered with the King County Bar Association Family Law Clinic, was the recipient of the CALI Excellence Award for Client Interviewing, Settlement and Negotiation, and participated in the Capital Appeals Clinic. Heidi earned a bachelor's degree in journalism and political science from the University of Montana in 2004, where she was active as an "Advocate."
Speaking Engagements
Idaho Law Foundation – Enforcement of Judgment
King County Bar Association Legal Lunchbox Series – Mortgage Electronic Registration Systems, Inc. in light of Bain v. Metropolitan Mortgage Group, Inc.
Education
J.D., Seattle University School of Law, 2009
B.S., University of Montana, 2004
Jurisdictions Admitted to Practice Idaho
Washington
U.S. District Court for the District of Idaho
U.S. District Court for the Eastern and Western District of Washington
U.S. Bankruptcy Court for the District of Idaho and Western and Eastern
Districts of Washington
U.S. Court of Appeals for the Ninth Circuit