Estate Planning Lawyers in Pocatello
Pocatello Estate Planning and Probate Attorneys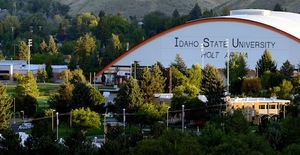 Our Estate Planning Attorneys in Pocatello help clients in southeast Idaho with all of their Estate Planning and Probate needs. We can help you with your concerns about how to plan for your future. Additionally, if you have a loved one that has recently passed away, you can depend on our Pocatello Probate Lawyers to guide you through the probate process. We have represented clients in the Pocatello area for more than 75 years. We represent people in Pocatello and southeast Idaho in all walks of life to review and create a customized Estate Plan that protects our clients, their family and their own needs for generations to come. We also represent Pocatello residents with the Probate process when a loved one passes away, helping them maintain good family relationships and protect property.
Our Estate Planning Attorneys in Pocatello include a team of partners Randy Budge and Lane Erickson and attorneys Matt Stucki, Nathan Palmer and Dave Bagley who have received the highest ratings from Martindale and Hubbell, AVVO and Justia for their ethics and legal ability as Pocatello Estate Planning Attorneys. We have the experience and the ability to help you complete your Estate Plan or to assist you with a Probate.
Customized Estate Planning
We all have an understanding that death is unavoidable. The only question is when we and our loved ones will die. In completing an Estate Plan our Pocatello Estate Planning Lawyers help you solve problems, avoid potential disagreements and fights within your family, and obtain peace of mind that your property will be distributed to the individuals that you want.
In addition to giving away your money, property and belongings Estate Planning helps create a customized plan for your own future. People are living longer now than ever before and with this longer life often comes the increased risk of having a disability or mental incapacity when we are older. Dementia in the form of a stroke, Alzheimer's, or some other injury or illness are more likely now than ever before. Having a complete Idaho Estate Plan allows you to name a person through a Power of Attorney who will make decisions for you about your finances, property, health care, business, and others areas of your life in case you are unable to make these decisions. When you don't complete your Estate Planning, your family may be forced to go to Court and have a judge decide who your guardian will be.
Parents of small children, should also complete their Estate Planning because doing so prepares for the worst thing that could happen which is their death. Having a completed Estate Plan ensures that the person you choose will be named as the Guardian of you minor children so that they are taken care of. Failing to have a completed Estate Plan results in the courts deciding who will be the legal guardians of your children. The problem is that family members often disagree about who should be named as guardian. This leads to family fights or disagreements that can be ugly, destroy relationships and also be costly.
When no Estate Planning is completed families sometimes disintegrate while fighting over money, property or who should be named as the guardians of minor children. Our Idaho Estate Planning Attorneys can help you avoid these potential problems by working with you to customize your Estate Plan
A Complete Idaho Estate Plan
Even though every person's life and circumstances are different, our experience is that every person should have a complete Estate Plan. A basis Estate Plan includes a last will and testament, a durable power of attorney, a living will, and a durable power of attorney for health care. When parents have small children we also help create a named guardian, and a trust for minor children so that they will be cared for by the people you choose. Some situations and circumstances create a need for a living trust or a series of trusts that can be used as part of succession planning for farm, ranch or business that are owned by individuals. Additionally, a complete Estate Plan provides information and instructions about life insurance, bank accounts, and retirement accounts.
Idaho Probate
In addition to completing an Estate Plan, ever person should think about how probate may affect them and their property after they die. In Idaho the probate process is simple and straight forward. Probate is the legal process that allows a Personal Representative to take care of the decedent's creditors and pay estate debts. Probate also gives the Personal Representative the authority to distribute property under the instructions described in a person's last will and testament. When a last will and testament doesn't exist the laws of intestacy provides for an automatic distribution.
Probate is required in Idaho under certain circumstances, including when the deceased person owned a home, or other real property. The title owner of real property in Idaho is established through a written and recorded deed. While alive a person has the ability to sign a deed to sell or give away real property. When a person dies, their name is still on the deed but there is no longer any person who has the legal authority to sign the deed in order to sell or transfer the real property to another person. Probate provides a way for another person to be named as a Personal Representative who then has authority to sign on behalf of an estate and to transfer property, including real property, to others.
Enlist an Idaho Estate Planning and Probate Attorney to Help You
The diligent Pocatello Estate Planning Attorneys and Pocatello Probate Lawyers at the Racine Law Office can help you and your family. Whether you are seeking your own customized Estate Plan or are in need of a Probate for a loved one who has passed, we are available to discuss your options and answer your questions at an initial consultation. Call us toll free at 877.232.6101 or 208.232.6101 for a consultation with the Racine Olson team of Estate Planning attorneys in Idaho. You can also email us directly at racine@racinelaw.net. We will answer your Idaho Estate Planning and Probate questions and will help you solve your Idaho Estate Planning and Probate problems.