Estate Planning Lawyers in Boise
Boise Estate Planning and Probate Attorneys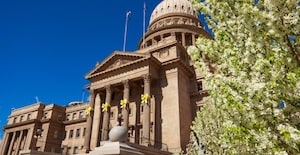 With an established office in Boise, our Boise Estate Planning Lawyers assist clients in the Treasure Valley and have numerous years of experience in helping them solve their Estate Planning and Probate problems. Our estate planning attorneys in Boise can help you plan for your future and provide for your loved ones based on your own instructions. Additionally, if you have a loved one that has recently passed away, we have both the skill and the ability to guide you and your family through the Idaho probate process regardless of whether your loved one did or did not have a Last Will and Testament. We represent a variety of individuals in the Treasure Valley and help them with their own unique and specific estate planning and probate needs.
In our Boise office, the Racine Olson team of attorneys avaialbel to assist you includes partners Randy Budge, John Goodell, Conrad Aiken and Lane Erickson and attorneys Nathan Palmer and Dave Bagley. Our team members each have experience, knowledge and skill in helping clients. Each member of our team has received high ratings from clients we have helped over the years. Additionally, judges and other attorneys have recognized the skills and abilities of our team and have provided the highest rankings possible on several legal rating services including Justia, Martindale and Hubbell, AVVO. We are confident that our experience and the skills can help you with your Boise estate plan or assist you and your family with your probate needs.
We are confident that we can resolve your concerns and create a plan for you that will protect you while you are alive and help your family and loved ones after you are gone. Below are three specific questions with information that will help you understand how we can help you.
Why You Need a Customized Boise Estate Plan?
We understand that thinking about or talking about your own demise is not pleasant. However, the reality is that death is unavoidable for all of us. Most people seem to understand this but very few people actually do anything about it when it comes to estate planning. Our job is to take the unpleasantness out of the process for you. Many of the clients we have helped in the past tell us how great they feel and that we have given them peace of mind when their plan is complete.
So how can having a customized Boise estate plan help you? In addition to providing instructions about giving away your money and property a complete plan can also help you protect yourself while you are alive. Through the wonders of modern life, advances in science and a better understanding about healthy living, human beings are living longer now than ever before. While everyone wants to live longer, doing so often leads to an increased risk of developing a disability or mental incapacity as we age. Dementia or disabilities can and often do happen to people in their later years. However, by having a complete plan you will know that you are prepared for the possibility of your own disability because you will have a Durable Power of Attorney as part of your plan. This document allows you to name a person who will take care of you and handle and make decisions for you about your finances, property, health care, businesses, and others areas of your life that you do for yourself now. The greatest benefit of having this document is that you will avoid having a judge who will do this for you.
Likewise, parents in Boise with minor-aged children who have completed their estate planning will have chosen who will be named as the Guardian for their children. By doing this, the parents will have a written plan that avoids their family fighting or disagreeing about the children. Avoiding these problems helps keep family relationships intact and saves time and money.
The goal of our Estate Planning lawyers in Boise is to give you peace of mind while you are alive and to eliminate the likelihood of family fights over money, property or who should be named as the guardians for you or for you minor children when you die. Our experienced team have the experience and ability to guide you and your family away from these potential problems.
What Does a Boise Estate Plan Include?
We have helped a variety of individuals in Boise and have come to know that every person's circumstances in life are different. With this knowledge, we assist every client in completing a customized plan that carries out their instructions and wishes.
A last will and testament, a durable power of attorney, a living will, and a durable power of attorney for health care are the several documents that create a basic Boise estate plan. Additionally, we use our knowledge and experience to guide parents with minor-aged children to name a legal guardian, and also often to create a trust for minor children so they are protected and cared for. In addition to this, some individuals need a living trust or a series of trusts as part of the succession planning for certain types of property or for a farm, ranch or businesses that are owned by our clients when a need arises. Our goal is to help each of our clients complete a customized Estate Plan to provide information and instructions about all of their property, assets and money. This includes their bank accounts, retirement accounts, and life insurance.
What do I Need to Know About Probate in Boise?
With death being an unavoidable fact, we also help every client consider how probate may affect them, their family and loved ones, and their property after they die. The probate process in Idaho is prescribed by statutes and is normally straight forward and simple. It is the Court process that authorizes a person to be named as the Personal Representative for the individual who died. Once appointed, the Personal Representative can legally resolve the deceased person's debts and can also distribute property. This is done through the instructions left in the last will and testament. When a written last will and testament does not exist, the statues of intestacy create an automatic distribution of the property. Most people avoid intestacy because it creates a distribution that must be followed whether the deceased person would have liked it or not.
Probate is required in Idaho when a person dies while they own a home, or other real property or when the value of their estate is worth $100,000 or more. While alive, a person can sign a deed to another person in order to sell their property or give it away. The problem is, when a person dies there is no one who can do this. Probate provides the legal authority for a person who is named as the Personal Representative to transfer the decedent's real property to others.
Enlist an Idaho Estate Planning and Probate Attorney to Help You
Our experienced team of Estate Planning Attorneys in Boise at the Racine Law Office can help you and your family with estate planning or probate. We are available to discuss your options and answer your questions at an initial consultation. Call us toll free at 877.232.6101 or 208.232.6101 for a consultation with the Racine Olson team of Estate Planning attorneys in Idaho. You can also email us directly at racine@racinelaw.net. We will answer your Idaho Estate Planning and Probate questions and will help you solve your Idaho Estate Planning and Probate problems.