Pocatello Workers' Compensation Lawyers
Have You Been Hurt on the Job in Pocatello, Idaho?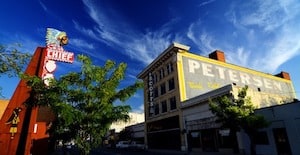 We are highly rated in both legal & ethical standards. Call us at 208.232.6101 or 877.232.6101 or email us at fjl@racinelaw.net. We will answer your Pocatello worker's compensation claim questions for free. There is no obligation. We will tell you how we can help.
Why Choose a Workers' Compensation Attorney in Pocatello for Your Workers' Compensation Case?
If you have been hurt on the job in the Pocatello area, you need an experienced Pocatello workers compensation lawyer who has relationships with doctors that practice in Pocatello. In an Idaho Worker's Compensation case the injured party must prove the accident caused injuries with the testimony from a medical doctor. Some Pocatello doctors will help with your Idaho workers compensation claim and some Pocatello doctors will not help at all. We have developed relationships with doctors here in Pocatello that have lasted more than 20 years. As an injured person you will need these Pocatello doctors to will testify before the Idaho Industrial Commission to support your claim. You have no claim without them.
Fred J. Lewis joined the Racine Olson law firm in 1988 and began representing people who were injured on the job in Pocatello. He has made it a practice to personally meet with and develop working relationships with specific Pocatello doctors that are willing to testify in support of injured people with Idaho workers compensation claims. Hire our firm early. We can help you find doctors that tell the truth and will stand up to the insurance company. You will be out gunned by the insurance company and their doctors and lawyers if you try to go it on your own. You need to protect yourself and your family's future you by hiring an experienced Pocatello workers compensation attorney who has personal relationships with Pocatello doctors that will help you with your claim.
We use a Team Approach at Racine
When you hire our firm as your Idaho workers compensation attorneys you will hire the entire Racine Olson firm. We are largest law firm in Idaho outside Boise. We have what it takes to represent you in your Pocatello workers' compensation case.
Pat George has extensive experience representing insurance companies. He knows how they think and how best to approach them. He now represents good hard-working people like you injured in the Pocatello area. Rachel Miller is another lawyer at Racine Olson that represents good people like you that are injured on the job in Pocatello area. There are 16 other lawyers here at our firm with other specific skills that can be brought in to assist in a team approach on your case. We all work on your claim. We have found that it is better to have a team of lawyers and staff on your side. The attorney fees at our firm are the same as they are if you hire a solo lawyer for your case. The insurance company is going to have their own team. Don't let them get the upper hand. Fight back. Put the Racine Olson team to work on your Pocatello workers' compensation case today.
We Have a Passion for Representing Working People Hurt on the Job
After you suffer an accident on the job you are going to feel alone and not know where to turn for help. For most clients it is their first experience with the Idaho workers' compensation system. You are entitled to many benefits under Idaho workers' compensation law. The insurance company is not going to tell you about these benefits. They hope you never find out about these benefits. They want to keep these benefits a secret. It is always a battle to obtain these benefits. You need us at your side pushing the insurance company, so you can receive every Idaho workers compensation benefit to which you are legally entitled.
Fred grew up in a working-class neighborhood, the son of a proud member of the Teamsters Union. He has a passion for representing people who are injured on the job. For decades Fred has helped his clients secure medical care and workers' compensation benefits when they needed it the most. That is a good feeling.
Pat grew up in Georgetown, Idaho. His father worked hard at a mine and drove truck. Pat is an important part of the Racine Olson team. His experience representing insurance companies can be used to your advantage.
Put our firm to work on your case. We pursue these cases on a contingency fee basis. You do not pay a fee unless we win your case. Contact us today.