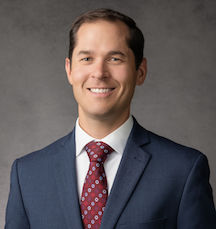 Jared Fluckiger
Associate
Jared was raised in the Magic Valley. He received a bachelor's degree in Political Science, magna cum laude, from Utah State University in 2011. He received his law degree in 2016 from the University of Wyoming. While in law school, Jared concurrently completed a Master's degree in Environment and Natural Resources. His Master's Thesis project was an assessment of Idaho's future water administration needs in a post SRBA era, and the potential for a permanent state water court. Jared is admitted to practice in all Idaho State courts and the U.S. District Courts of Idaho.
After law school, Jared worked as a judicial Staff Attorney for Idaho State Sixth District Judge Mitchell W. Brown and then Idaho State Fifth District Judge John K. Butler. While clerking for two different judges for two and a half years, Jared did legal research and writing on a variety of legal issues both criminal and civil.
Jared then went into private practice by joining the law firm of Merrill & Merrill, Chartered, in Pocatello where he primarily practiced Social Security Disability law for a year and a half. Jared is excited to be part of the team at Racine Olson and practicing areas of law that were more of his focus during his academic studies. Most of Jared's current caseload is comprised of real property and land use related matters. Jared is also practicing water law. Jared has helped numerous clients successfully navigate complex legal disputes and issues to resolution.
Education
B.S., Political Science, Utah State University, 2011
J.D., University of Wyoming, 2016
M.A., Environment & Natural Resources, University of Wyoming, 2016
Jurisdictions Admitted to Practice Idaho State Courts
U.S. District Courts of Idaho

Personal Info
Jared and his wife, Michelle, enjoy many outdoor activities including camping, hiking and mountain biking. Jared enjoys outdoor adventuring year-round and appreciates the variety of activities that each season brings. Jared and Michelle were thrilled to welcome their first baby in November 2020. Their baby boy has been an exciting addition to their home, and they can hardly wait to take him on their adventures. Jared has been involved with the local youth mountain biking program, NICA, as a coach and ride leader. Jared is an avid cyclist and can often be found out among the hills on the fantastic roads and trails the Pocatello area has to offer.