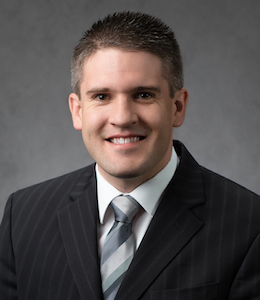 Kyle D. Grigsby
Attorney
Kyle practices in the areas of real estate, business, estate planning, and employment law. A writer at heart, Kyle uses expertise he has developed in legal research, analysis, and writing to be a strong advocate for his clients. He approaches legal problems with a focus on results and efficiency, keeping in mind the practical realities of business as well as the strict legal perspective. Kyle was an 800m runner for Boise State's Track & Field Program and his athletic background has instilled in him a fire for healthy competition and desire to excel in his efforts.
As part of his practice, Kyle represents clients in commercial, real estate, and construction litigation. This includes construction defect cases and real estate disputes over property boundaries, easements, and other property uses.
Prior to attending law school, Kyle was V.P. of Business Development and Human Resources at one of the largest and highest-producing residential real estate teams in the country. He has a love and appreciation for Idaho land and real property, and its intersection with life and the law. His father was a realtor and his grandfather a federal land appraiser and wildland firefighter.
Kyle previously worked as a legal extern to Chief Justice Matthew B. Durrant of the Utah Supreme Court. It was especially valuable as a new attorney to conference with the judge and see first-hand the judge's individual process of evaluating cases. While in law school, he was a Lead Note and Comment Editor of the BYU Law Review, a research assistant for Law School Dean Gordon Smith, a member of the Dean's List, and the recipient of the highest grade awarded in Evidence and Land Use. As a member of the BYU Law and Entrepreneurship Clinic, he helped many start-ups with drafting the legal documents necessary to start their business. He was also a law clerk at the Idaho Office of the Attorney General, Civil Litigation Division.
Professional Activities
Kyle is a member of the Idaho State Bar and is admitted to practice law before all Idaho state and federal courts. He is a member of the Idaho State Bar business, real estate, and estate planning practice sections.
Community Involvement
Kyle provides volunteer legal services to the CASA Guardian Ad Litem program.
Personal Information
Kyle and his wife, Kayte, have two wonderful children. Both Kyle and Kayte are Idaho natives and have ties to Southeast and Southwest Idaho. Kyle's interests include hunting, hiking, and fishing.
Education
J.D., BYU J. Reuben Clark Law School
Cum Laude
B.A. in English, Boise State University
Magna Cum Laude