Employment & Labor
Idaho Employment and Labor Law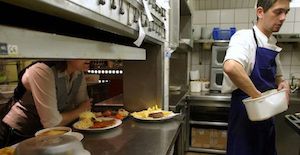 Idaho Employment and Labor Law involves both employers and employee's actions, rights and responsibilities, as well as their relationships with one another. Employment and labor law issues in Idaho can create tension, stress and disagreements, particularly when discipline or termination occurs. Our team of Employment Lawyers in Idaho can help.
We have represented clients, both employers and employee, through all phases and types of employment matters and litigation, ranging from individual charges and cases to broad-scale actions. Our Employment Attorneys are well respected among the legal community. Lane Erickson is a partner in the Racine Law Firm who has received the highest possible rating of "AV" by Martindale Hubbell and from AVVO and JUSTIA for his ethics and legal ability.
Idaho Employment Law
Idaho Employment Law covers all of the rights and obligations of the Employer and the Employee within the employment relationship. This includes job applicants, current employees, and former employees. As the information below illustrates, employment relationships can be complex and often involve a wide variety of situations governed by Federal and/or State statutes and laws. The Employment attorneys at the Racine Law Team are experienced in each of these aspects of the employer and employee relationship. We can help you work through and resolve all of your Idaho Employment and Labor Law issues.
Protecting Idaho Employers
Whether you are a large business officer or owner, a small business owner or manager, an HR professional or are thinking of starting a business that will have employees, we have the experience and knowledge to assist and help you in all areas of Idaho Employment law and Labor law.
In Idaho there is so much more to employment law than just hiring and terminating employees. There are a number of federal and state statutes and laws that all Idaho Employers must understand and follow. These include requirements such as minimum wage, overtime, record keeping and protected leave such as FMLA. Additionally, these laws create an obligation for all Employers in Idaho to protect employees from all forms of bullying, harassment, and discrimination. Further, federal and state and even some local laws seem to involve an ever changing landscape of requirements concerning the rights of gender choice and gender identity.
From the creation of employment contracts to the procedures and processes of an unemployment benefits claim, the Racine Employment and Labor Law Team can help you as an Idaho Employer work through and resolve all of your Employment law concerns and issues.
Preserving Rights for Idaho Employees
All Employees in Idaho have basic rights in the workplace from the time they apply for a job until the employment relationship comes to an end. Under applicable Federal and State statutes and laws these rights include fair compensation, freedom from discrimination and protected leave under the FMLA in certain circumstances when an illness or injury requires you to take time off from your job. Additionally, most Employees in Idaho are also entitled to receive minimum wages, overtime wages, worker's compensation benefits, and other protections and benefits including health and safety.
Out Idaho Employment Law Team has experience working with Employees in Idaho in all aspects of the employment relationship. We have reviewed and provided revisions to employment contracts. We have also assisted Idaho Employees in resolving employment issues both during and after the employment relationship has ended.
Enlist an Idaho Employment Law Attorney to Help You
The experienced Idaho Employment and Labor Law attorney team at the Racine Law Office are here to help you when you need it most. Whether you are an employer or an employee with an employment law problem we are available to discuss your options and answer your questions. Call us toll free at 877-232-6101 or 208-232-6101 for a free consultation with the Racine Olson team of Idaho Employment and Labor Law attorneys in Idaho. You can also email us directly at racine@racinelaw.net. We will answer your questions and help you solve your Idaho Employment and Labor Law problems.